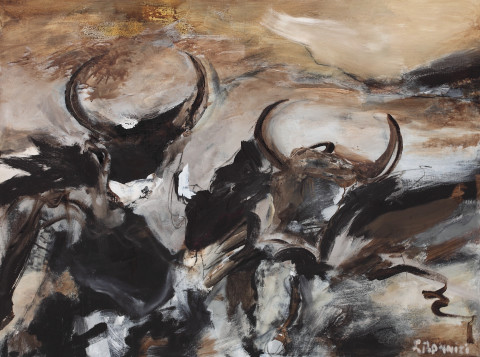 As a child, Laetitia admired and respected the art of her father's Italian portrait.

After having traveled the world, founded a home and raised three children, Laetitia turned once again to her passion for art, first in the studio of Professor Georges Bard in Grasse, where she learned to transcribe the smallest Detail (a wrinkle, a crease, a whisper ...) by the detailed representation of the forms.

"Too much detail can distract the attention of one who looks at a canvas" Laetitia maintains. Suggesting the traits allows him to react in relation to his own experience, to project his state of mind.

Rich in her experience with Professor Bard, Laetitia refines her perception of color, guided by the American artist Leo Buzkin, from whom she learned to draw from her own passions and inner violence the energy to paint quickly and forcefully , His hands being the instruments of his heart and mind.

"I'm becoming another person," says the elegant and graceful Laetitia, "very violent and passionate, I feel a force spring from the inside when I work."

The wild power of her paintings and sculptures bears witness to this profound source of energy within her.
The dynamism of Laetitia also comes from the small group of young artists she guides in her studio in the South of France.

"All my experience, all my life, is concentrated in my art. It is through my work that I can express what it is to be an artist - and yet also a woman, "says Laetitia.

"Laetitia's works speak for themselves, they reflect a passionate soul," Craig Lancto, Washington Times.

Available art work