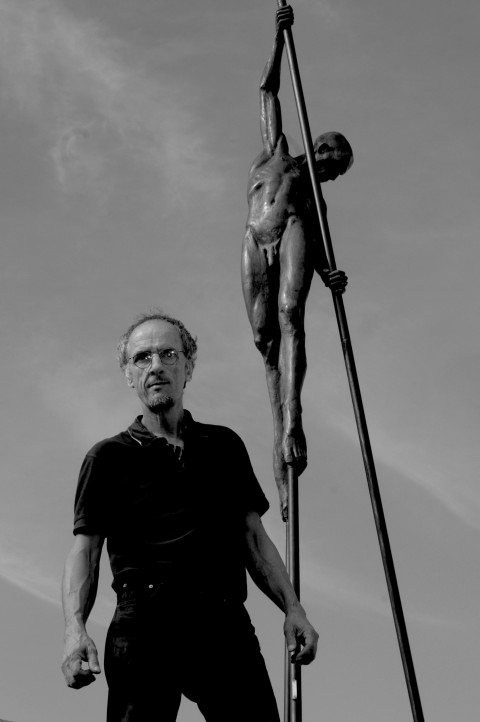 Born in 1953, Nicolas Lavarenne grew up in Nice cradled by the conversations emerging from his father's workshop, who was a painter.

In 1973, in parallel with his studies in mechanical engineering, he made a complete motorbike which was subsuquently registered for the road by the Service des Mines.

In 1978, after a few wayward years, he started working for himself and took his first steps in ornamental sculptures, under the care of Jean Cortese, and finally found his place…..in the workshop.

After having passed the summer of 1984 reshaping a block of wood to liberate two suspended bodies of acrobats: his first sculpture saw the light of day.

Thanks to this sculpture, it is finally time for his first exhibition and a collaboration with a gallery.

This sculpture will be awarded by the public the following year, by the UMAM in Nice.

In 1987, its sculptures were exposed in New York, then in Los Angeles. It is also the first bronze cast for the artist.

In 1988, Nicolas Lavarenne carves "L'enragé", his ultimate wood sculpture. This sculpture suspended in a tetrahedron lets foresee a whole new direction on the theme of the tripod and stilts. In 1990 he also worked as an assistant to Arman.

1991, « Le guetteur », a character perched on a tripod, is at last looking towards the oncoming years. It is also the year of his first meeting with Marc Massa, his bronze founder since then.

1993, came his first order for monumental sculptures, destined for England. The following year commenced his first personal exhibitions abroad.

In 1995, the town of Menton (France) acquired a Nicolas Lavarenne's monumental sculpture. In that year, he installed his workshop in Haute Savoie and continued to commute to the South and back for his family, friends and the foundry.

In 1996, the town of Sion in Switzerland ordered the « Grand Passeur », on the occasion of an urban exhibition.

In 1997, Nicolas Lavarenne exposed in England, then after in Denmark where Prince Henry acquired a sculpture which he installed in the middle of a pond at the Marselisborg Castle. The following year, Divonne-les-Bains as well as Mooseedorf both acquired monumental sculptures for their public collections. This year, Nicolas Lavarenne carried out his first catalogue.

In 1999, Nicolas Lavarenne received the public prize for the urban exhibition « Sous le Soleil d'Antibes »and also exposed in Beirut (Lebanon).

In 2007, it was the Conseil General of the Alpes Maritimes' turn to honour him and acquire a monumental sculpture which was installed in Roure, dominating the Tinée Valley and the Mercantour National Park.

Today, Nicolas Lavarenne will resettle his workshop in the South of France.
Available art work